Welcome to Sora no otoshimono Wiki!
An encyclopedia about the Heaven's Lost Property/Sora No Otoshimono Manga and Anime series, and a community for the fans who love them! We are currently editing 208 articles which anyone can help edit. If you are interested in this wiki's statistics you can click here to display them. You can view recent changes here.
---
Chaos
Lost by not understanding the feelings of humans, Chaos comes out in his hunt for "love", making everyone fear its ominous presence, a sweet child, marked by pain and confusion.
Anime
「明日に羽飛く彼女達(フォルテ)」 (Asu ni Hapataku Kanajo-tachi (Forute)) "The Girls (Forte) Flapping Their Wings in the Morning"
After the battle with Chaos, Tomoki and the others return to their normal lives and decide to go to the pool to relax a bit, but as usual, Tomoki takes advantage of the situation to "play" with the girls who were there.
---
Manga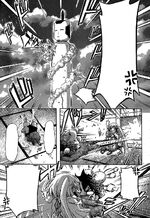 White or Black
After the reconstruction of the universe, Ikaros remembers her last words to Tomoki, and isolates herself due to shyness. Tomoki takes the battle to give her his answer.
Previous Poll
Who is your favorite Angeloid?
| Rank | Poll | Votes | Percentage |
| --- | --- | --- | --- |
| 1st | Ikaros | 153 | 48.26% |
| 2nd | Chaos | 60 | 18.93% |
| 3rd | Nymph | 46 | 14.51% |
| 4th | Astraea | 27 | 8.59% |
| 5th | Hiyori | 24 | 7.57% |