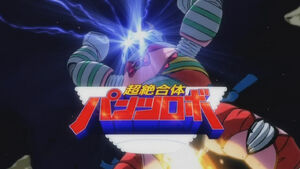 The
panties robot
first appears in the fourth episode, Love Triangle - again - and is one of the inventions by
Tomoki
. It was built in order to protect the "treasure" of Tomoki which was in his bedroom closet. It was made of the panties Tomoki had collected. The robot had panties that Sohara had told Tomoki to get rid of and they would all explode on sight (Sohara used one of Ikaros' cards to make it so that any panties Tomoki laid eyes on would explode). It can also change shape. It was named by Tomoki. It was rebuilt in the fifth episode of the second season, thanks to
Ikaros
and transformed by a motorcycle to walk around with and use it to watch girls (panties, naked in the locker room, etc.) A great friendship between him and Tomoki had been created. When Tomoki went to school (or for a ride)
Sohara
had discovered panties robot and became furious. Tomoki, believing the end, the robot jumped in front of her protecting him from Sohara. The robot panties deeply thanked Tomoki for having been his friend and was massacred by Sohara. Moved, he said stop, but it was too late. For that, it makes it a tomb next to his home. To walk, he must have the perverse energy.
Appearance
Edit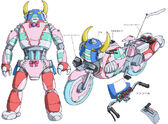 It is the same stature as all other robots, but it is made ​​from panties that Tomoki was collecting. Two yellow horns adorn his head the color that this is more pink, pale red, blue, turquoise, and white.
Community content is available under
CC-BY-SA
unless otherwise noted.